Halloween Family Fun Fest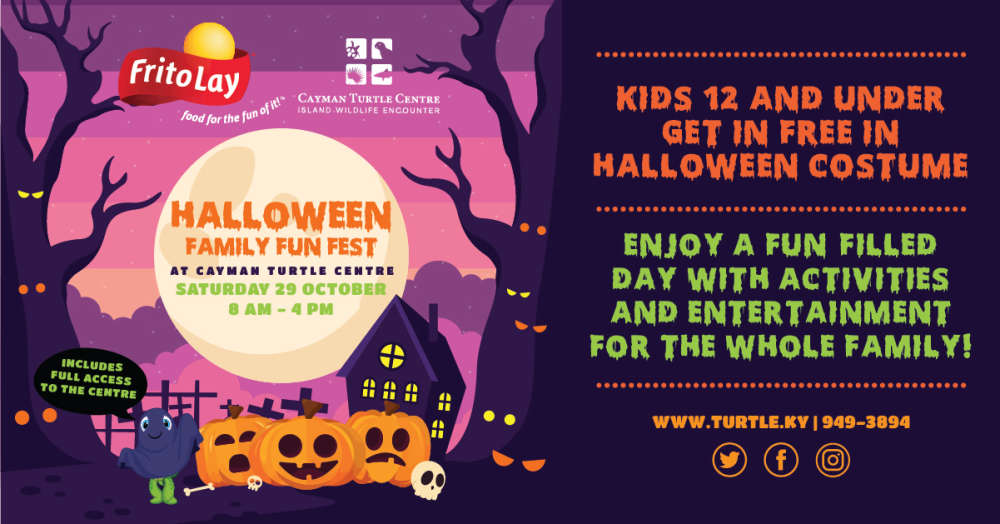 Enjoy

a fun day out for the whole family!
Join us Saturday, 29 October from 8am - 4pm for a
fun-filled day with activities and entertainment for the whole family at the Frito Lay Halloween Family Fun Fest at Cayman Turtle Centre!
Take part in the spooky scavenger hunt, with fun Halloween games and activities.
There will be live music and a delicious BBQ poolside from 12-4pm.
Kids 12 and under get FREE admission when they wear a Halloween costume.

Sponsored by Frito Lay, Z99, GOLD, Rooster 101, Island FM, Compass Media, Burger King, Popeyes, Maedac & Cayman Turtle Centre.

See the map below....
FIRST Annual Cayman Agouti Day

What's Going On

Let's be honest, at times the past couple of years in Cayman have felt like Ground Hog Day, but Cayman doesn't have Ground Hog Day or Groundhogs or seasons....but we do have Agouti's!

Arrive Alive 345

What's Going On

Compass Media's Purple Ribbon Pledge (PRP) focuses on drivers to take the pledge not to drink and drive. Drivers can show their pledge by picking up their Purple Ribbon decal and keeping it on the vehicle for the holiday season. The Designated Driver (DD) campaign runs simultaneously.

Local Artist Spotlight - Nicholas George

Rooster 101's Local Artist Spotlight

Nick Nowak, stage name "Nicholas George" grew up around music . His Dad, George Nowak, AKA 'Barefoot Man' was, for decades, one of the few musicians in Cayman who wrote, performed and marketed music as a full time job.